Šibenik Kornati sailing area: Marina Mandalina, Marina Frapa, Marina Kremik, Murter
Ideal for visiting Kornati national park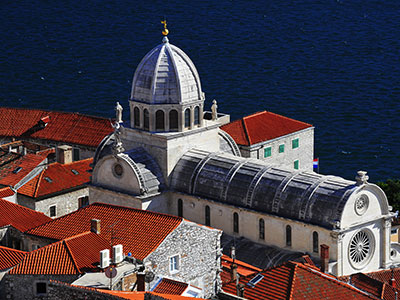 Šibenik, the fortified town by the sea, was established by Croats around the ninth century.
Protected by the limestone rocks and mountain hinterland, Šibenik was fought for by Austrian-Hungarian empire, Byzantium, Venice and many others.
Because of the advancement of the medieval Croatian state, the town Šibenik gained a ground and in 11th century it was mentioned for the first time in the report written by the king of king Petar Krešimir IV.
The town was all the while gaining ground, spreading and building up its way of life, craftsmanship, route, exchange and economy by and large. Šibenik was under the Venetian tenet for long 400 years, however from that period we have the most buildings, historical and cultural sites of Šibenik today. Among them is the Šibenik simbol – the Cathedral of St. Jacob
Marinas in Šibenik sailing area
Marina Mandalina Šibenik
Marina Kremik
ACI Marina Skradin
ACI Marina Vodice
Marina Tribunj
Marina Hramina Murter
Marina Betina
ACI Marina Jezera
ACI Marina Piškera
Islands to visit in Šibenik sailing area
Kornati National park
Murter
Prvić
Kaprije
Žirje