MYBA
MYBA Is a trade association founded in 1984 by a group of prominent yacht brokers with the aim of promoting standards of professionalism and ethics in the yachting industry throughout the Mediterranean, and worldwide. MYBA only endorses membership to brokerages with a proven track record of professional excellence in the yachting industry, thereby offering valuable benefits and safeguards to clients choosing to purchase, sell, build or charter a yacht through a MYBA broker.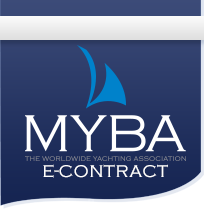 MYBA contract for security

Member companies are required to hold professional indemnity insurance and meet the strict requirements. By chartering with MS Yachts, yacht owners and charterers can benefit from the safeguards that have been established and be assured they are represented by experienced professionals. 
Once you sign a  contract, you know you have the best and safest service possible. You will be happy to know that most local yacht charter providers take care of the paperwork beforehand upon request in order to make your sailing holiday as trouble-free and pleasurable as possible, so make sure you get rid of all the formalities at the beginning of your trip so that you may make the most of the time you spend on the water.
Sample
The Charter Fee includes the charter of the Vessel with all its equipment in working order; tools; stores; cleaning
materials and basic consumable stores for engine room, deck, galley and cabins; laundry of ship's linen; the crew's
wages, uniforms and food; the insurance of the Vessel and crew as per Clause 16. The CHARTERER will pay, at cost, for all other
expenses. These include, but are not limited to, shoreside transport; fuel for the main engines and generators; fuel for tender
s and water
sports equipment; food and all beverages for the Charter Party; berthing dues and other harbour charges including pilots' fees, local taxes,
divers' fees, customs formalities and any charges for waste disposal, charges for water and electricity taken from shore; ships' agents' fees
where applicable; personal laundry; Charter Party communications and internet use; and hire or purchase costs of any special eq
uipment
placed on board at the CHARTERER's request.