Gulet Charter Croatia: Gulet Holidays Croatia
We offer best value for price, and top Gulet Charter service in Croatia
Welcome to Cro Sailing, top Gulet Charter in Croatia company. Embark on magical cruise in one of our traditional wooden Gulet. Gulet Charter Croatia and wooden motor sailors charter provide a unique cruising experience and leisurely way to explore the Adriatic. Typical gullet has crew of three or four (captain, cook and one or two deckhands), that will make sure your stay on board is most pleasurable one. All our chefs are famous for providing a superb array of lunches and dinners.
Talk to us!
PHONE:  +385 98 922 3721
EMAIL:  info@cro-sailing.com
SKYPE:  globe-yachting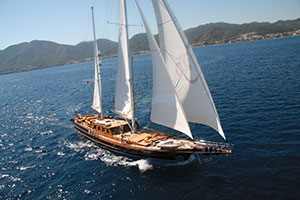 Gulet Holidays Croatia cruises for rich and famous, VIP protocol, presidents, famous movie stars and world wide known popular bands and musicians.
You will broaden your cultural and historical knowledge by visiting several places in short amount of time, you will taste our delicious cuisine and during that time, you will enjoy your adventure diving, swimming, discovering the bays and the beaches and simply relaxing
For better planning of your Gulet Charter Croatia, we will take your specific requirements before arrival in order to provide food and drinks required, restaurant reservations, itinerary suggestions or anything you may need during your trip.
Please dont hesitate to call us in English, Spanish, French or Russian languages and let us help you propose the most suitable Yacht at best possible price for chartering or buying let us offer you and your loved ones luxury Gulet Charter Croatia.
CLEAR BLUE WATER
With its crystal clear blue water, Croatia is one of the most attractive sailing destinations in the world
BREATHTAKING SCENERY
Beautiful bays, secluded coves, sunny beaches, ancient towns – Croatia is loaded with them.
GASTRONOMY
Enjoy terrific local food specialties like seafood, lamb, prosciutto and top it with one of the great local wines
HIRE LUXURY GULET IN CROATIA WITH CRO SAILING
WE  MAKE  SAILING  HAPPEN